The curtains came down on Italian stages on 23rd February 2020 and never rose again. On 23rd February 2021, one year later, a mass national mobilisation has been organized, to denounce the "tragic" situation of the entertainment industry.
"Nothing, zero,nisba", that's what the government has done to support the industry, according to Elio Balbo, spokesperson of Entertainment and Culture Professionals – the Emergency Continues.
The main accused is directly the Minister of Cultural Heritage and Activities and Tourism, Dario Franceschini. Indeed, one year after the outbreak of Covid-19 pandemic, no specific national security protocol has been issued.
"We feel devalued as a professional category", says Francesca Cassottana, actress. After a small glimmer of hope during the summer, when outdoor performances were allowed with strict sanitary precautions, theatres and concert halls simply have remained closed indefinitely, she explains.
Aline Privitera, cellist
"At the beginning it was a shock. I suffered for each annulled concert. The future perspectives aren't rosy, as many festivals have already decided to pause also for 2021 and wait for the next year."
Elio Balbo, gaffer
"It's always the same question: why have they created measures to open shopping malls, and not theatres?"
Francesca Cassottana, actress
"I consider myself lucky because I was able to do some rehersal with my company. But we have no idea about when we're going to actually perform"
Lara Quaglia, acrobat and circus performer
" I miss terribly my profession.Unlike many colleagues, I couldn't do performances online, I can't seal my inner world inside a screen."
According to all interviewees, statal subsides arrived late and, especially in the first months, they were quite scarce, "just enough for survival". Many professionals are starting to look for new sources of income. Among them, Lara Quaglia, who has no intention of giving up her acrobat job, was happy to sign a contract as a teaching assistant in a primary school.
In Italy, there are around 600.000 professionals of show business. According to Balbo, in the last year, 20-30% of them have permanently changed occupation.
"In the self-proclaimed country of culture, 150-200,000 workers have been abandoned to their fate. We have lost countless talents and excellence, probably forever" he says.
Balbo underlines that the sanitary and subsequent economic crisis made clear that the current norms aren't enough to protect the most fragile sections of workers.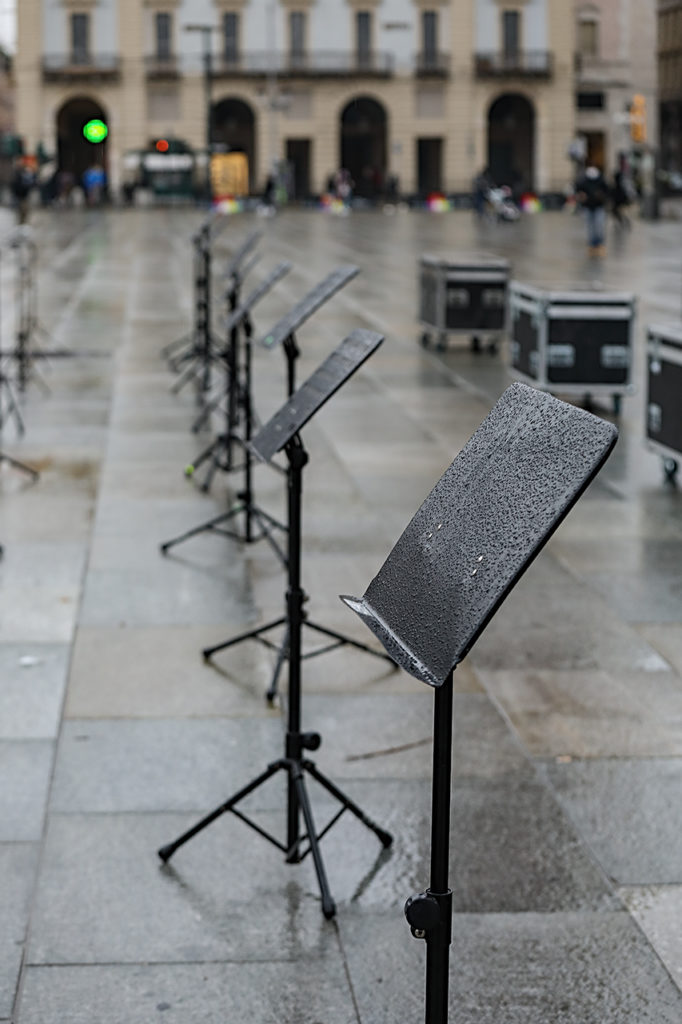 " We have organised ourselves in professional groups throughout the country and exchanged ideas. Being active with these groups has been one of the best things about this period", says Aline Privitera. "We gained awareness about our collective condition and we are standing together for our rights. I hope that thanks to our efforts future generations will have more recognition" adds Francesca Cassottana.
At the moment, the situation is still paralyzed. The impasse is aggravated by the ongoing government crisis, that has brought the country to a standstill. Could this be the right time to give some answers to entertainment workers? Elio Balbo is pessimistic. Several reform proposals to transform the regulations of the field are waiting to be discussed in the parliament.